Turning food waste into high value products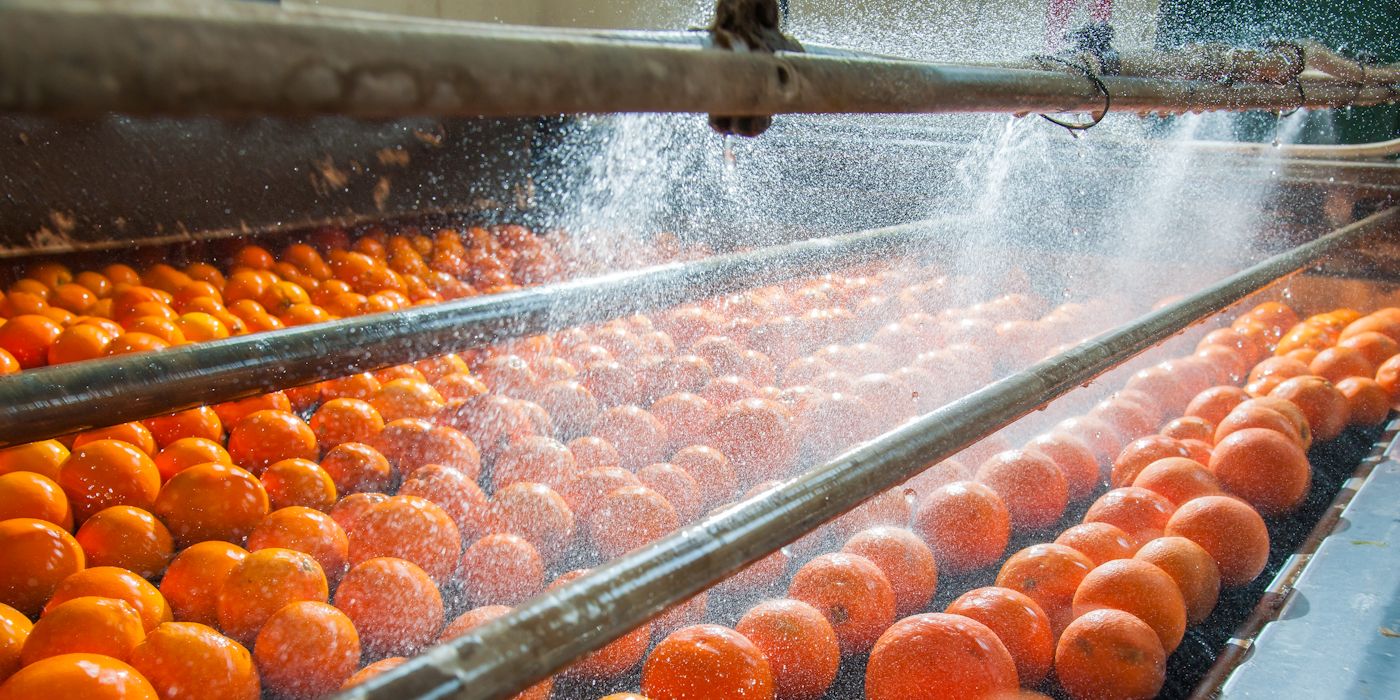 Food processing waste, such as canning water and orange peel, is being developed into eco-friendly packaging, sustainable cosmetics and other high value commercial products, through research led by Professor Caroline Orfila in the School of Food Science and Nutrition in collaboration with industry and international partners.
Pectin is a naturally occurring ingredient in citrus fruit pith and peel, in relatively high amounts. In waste water it is a difficult water pollutant that increases oxygen demand in rivers, damaging biodiversity. The large-scale mandarin canning industry in China generates 10 million tonnes of waste water containing pectin and 1 million tonnes of peel waste each year. These by-products would have mostly been discarded, prior to more stringent waste disposal regulations. But rather than considering them as waste, they are a valuable bio-resource containing enzymes, organic acids and essential oils as well pectin. These can be extracted and used to make new useful products and create a sustainable circular economy that is better for the environment.
From peel to products
Professor Caroline Orfila is working with colleagues from Zhejiang University and industry partners BioPower Technologies Ltd, Keracol Ltd and Parkside Flexibles Ltd in the UK to create a range of products from the food waste, through the Citrusafe project. It is funded by BBSRC, Innovate UK, and the Newton Fund. Professor Goycoolea, Dr Christine Bosch and Dr Jin Chu from the School of Food Science and Nutrition, as well as Professor Long Lin, Dr Qi Meng from the School of Chemistry and Dr Richard Blackburn from the School of Design, are also part of the team bringing together a vibrant interdisciplinary environment for research and innovation.
Both the canning waste water and the peels are providing source material for a wide range of high value products. The researchers are creating a biopolymer to replace animal gelatine and fat and creating a pre-biotic high fibre additive for food products for both the Chinese and the UK markets. Pectin waste is being developed into food grade films for soft fruit cartons, which will be compostable and extend shelf life with the aid of added antimicrobial extracts from peels. There is a growing demand in China for home delivery of food which could result in a substantial increase in packaged food, so sustainable packaging from food waste products could enable this without the plastic waste problems seen in western countries. Keracol Ltd, a University of Leeds spin-out company is working with the researchers to use the peels, which are rich in essential oils, bioactives and colours, to create sustainable skincare products as part of their Dr Craft range of cosmetics.
PhD students in the Citrusafe team are working on many other uses for the mandarin waste. Anti-microbial extracts from the peels are been used to reduce aflatoxins from mould that can grow on maize and nuts. The anti-microbial extracts are also being considered as additives in oral care.
Green technology for shellfish waste
Other research in the School of Food Science and Nutrition is creating value from different types of waste. Shellfish waste is difficult to process because it is so hard, but it contains valuable compounds which can be used in pharmaceuticals and agrochemicals. Prof Francisco Goycoolea from the School of Food Science and Nutrition is an expert in biopolymers and has extensive experience of their application in food and pharmaceuticals.
"All the chemicals are cross-linked in the shell, including the useful bioactives, making them hard to extract" explains Professor Orfila, "lobster shells for example contain a carotenoid that has been clinically demonstrated to enhance eye health, but it takes a lot of energy and strong polluting chemicals to extract it".
This green technology is very much in line with the UN sustainability agenda.
In collaboration with Canadian partners, Pennotec Ltd have created a cleaner, low energy, extraction process for Canadian shellfish. The TAMFI project is funded by Innovate UK and the Canadian EUREKA programme. "This green technology is very much in line with the UN sustainability agenda" said Professor Orfila. The project involves Vitrition UK Ltd which aims to use the extracted ingredients in food supplements.
Urban food mapping for Leeds
Professor Orfila and colleagues are also concerned with promoting a sustainable food system closer to home. Professor Orfila is leading the Urban Food Consumption Theme for the Global Food and Environment Institute. Current research aims to map the urban food system of the Leeds city region. This research views the city's food system as the interacting components of the physical infrastructure, natural environment and people. By creating a map of the system, adding demographic data and calculating the amount of food production in the city, a picture of food demand and supply for the area has been drawn. "We have a picture of Leeds that could be used in future to predict what could happen to food security with climate change and be used to develop into sustainable solutions for Leeds" says Professor Orfila.
By working together with stakeholders, we can create research that addresses societal challenges in urban food systems.
The Food Wise Committee for Leeds, which includes representatives from the City Council, businesses, charities and the education sector, is working to implement healthy sustainable food solutions for Leeds. "By working together with stakeholders, we can create research that addresses societal challenges in urban food systems." said Professor Orfila.
Contact us
If you would like to discuss this area of research in more detail, please contact Professor Caroline Orfila.