Increased mobility for elderly citizens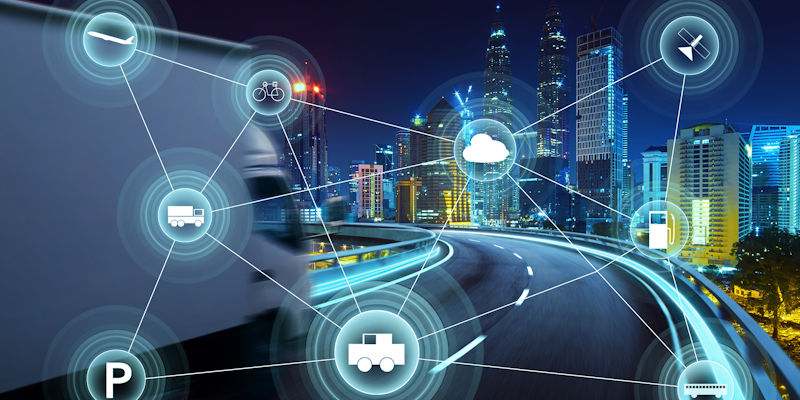 Elderly city dwellers could benefit from demand-responsive automated transport in the future, through the modelling work of Professor Ed Manley at the University of Leeds. This could enhance their access to services and social contact and increase wellbeing. He is also contributing to COVID-19 research.
Ed Manley is professor of Urban Analytics in the School of Geography and his work uses 'Big Data' modelling expertise to investigate key health and transport issues within cities. He uses 'agent-based' modelling, which simulates the behaviour and decision making at an individual citizen level to predict how different transport and health policy changes will affect city life.
In partnership with UCL, London and the University of Manitoba, Canada, Professor Manley is currently investigating if fleets of autonomous vehicles could provide more mobility freedom for elderly people to move around cities. Funded by UK Research and innovation (UKRI) and its Canadian equivalent, the project aims to model how access to on-demand autonomous vehicles would change the travel behaviour of elderly residents. "Currently people need to book rides ahead, but this is restrictive for elderly mobility. An autonomous vehicle system is more responsive and could be a cheaper alternative, with many more vehicles across the whole city. They can be easily adapted for accessibility" explained Ed.
An autonomous vehicle system is more responsive and could be a cheaper alternative... and can be easily adapted for accessibility.
Through agent-based modelling, the researchers hope to explore how this kind of system would affect people's decisions to travel and how would these decisions impact on other services within the city. "How does a new transport mode affect people's decision to travel?" asked Ed. "If elderly people can more easily go and meet their friends, are costs to mental health services decreased?" How the system would affect other forms of transport, traffic flows, shops and services would be other aspects considered through the modelling.
The team are working with Winnipeg Transit and Transport for the West Midlands to collect data in Winnipeg and Birmingham to inform the models. Focus group data on the perceptions of elderly people for such a system, along with demographic data from census returns and transport data on likely routes, will all be fed into the sophisticated decision-making model. The individual 'agents' in the model are scaled up to the hundreds of thousands of 'agents' in the whole city to gain a picture of how all the individual decisions interact.
"We are interested in how to make use of this kind of artificial intelligence in an equitable way. The project will support elderly groups in the cities to lobby for better services and bring together the transit agencies to exchange learning," said Ed.
Previously Ed has worked with Transport for London using smart card data and with GPS data from major taxi companies to understand individual level transport behaviour in cities. This can help city and transport planners enable more efficient journeys for commuters. It can inform decision making around disruptions to the network when major maintenance is needed, or in emergency situations.
Modelling for better health
Agent- based modelling is also informing decision makers in hospitals during the 2020 COVID-19 crisis. The team are working on a project funded by the Medical Research Council (MRC) to simulate the movement behaviour of health care staff on the COVID wards of a major city hospital. It is hoped that this will inform policies to create safer movement pathways in future which will limit the likelihood of the illness spreading within hospitals.
Professor Manley has also used more unusual modelling methods to help clinicians identify patients with early onset dementia. Working with Deutsche Telecom and Saatchi & Saatchi, who created the Hero Quest game, he used data from over 40 million games, played by 5 million unique individual players, to create a baseline range for normal player ability. The international dataset has enabled the model to be sensitive to variations caused by age, gender or nationality. It can now be used to spot players falling outside the normal baseline, who may have early onset dementia symptoms.
Having all the relevant data in an easily understandable format is crucial for clinicians and health service managers to make good decisions. Professor Manley has created data dashboards for several health settings, which bring together important data in a visual form on one page.
The research challenge is always how to present the most useful data in the best way to support the decision maker.
With funding support from the Engineering and Physical Sciences Research Council (EPSRC), he has worked with the Africa Health Research Institute in South Africa to create data dashboards for HIV and with University College Hospital London to present data to clinicians treating kidney failure. Similar approaches could also be useful for COVID treatment staff or for city and transport planners.
"The research challenge is always how to present the most useful data in the best way to support the decision maker," said Ed Manley.
Contact us
If you would like to discuss this area of research in more detail, please contact Professor Ed Manley.