Winnie Phoebe Ombati
Course: Food Product Innovation MSc
Nationality: Kenyan
Winnie Phoebe Ombati is a Masters student, currently studying Food Quality and Innovation MSc within the School of Food Science and Nutrition.
Phoebe chose to study at the University of Leeds as it strongly resonated with the key criteria she was looking for in a school.
"Not only has the University been ranked top in Food Science studies… It also forms part of the Worldwide Universities Network which comprises of 16 Research Intensive Institutions addressing issues of global significance. This means the University receives funding, enabling it to invest in excellent research facilities and staff who are leading in the field of Food Science."
Learning from research
"Not only have I been privileged to learn from renowned researchers in my field, but I have had the opportunity of getting a competency-based approach of teaching."
The University has also embraced a competency-based curriculum by having industry professionals, with years of experience, tutoring some of the key industry aspects.
Practicals
"The practical aspect has also been helpful in supplementing my theoretical knowledge with the understanding of food analysis, flavour, texture, food processing among other aspects."
Not only were the laboratory personnel exceptional, but the practicals also sharpened my collaborative teamwork skills, experimental skills, time management, report writing, critical thinking and problem solving and research skills.
"These are skills and competencies I believe are much needed in the food sector, with the pressing need of conducting impactful research for innovative interventions and evidence-based policies."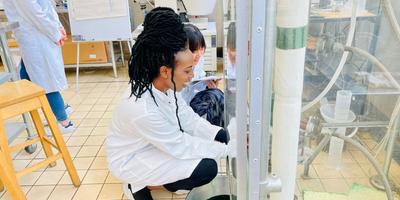 A focus on industry
"The course has been tailored to address prevailing needs by having modules structured to reflect industry needs. This has been made possible by industry professionals from renowned companies, including Kellogg's, Kraft Heinz and Marks and Spencer, who form part of the multidisciplinary board."
"Having modules structured to address prevailing industry needs therefore embraces a competency-based curriculum and ensures competent graduates, who can bring their expertise into solving and addressing these issues key challenges within the Food and Drink sector."
Future ambitions
Winnie's short-term goal is to contribute to Food Safety and Food Quality through the Food and Agriculture Organisation of the United Nations (FAO).
"I will be able to use my skills and competencies in the field of Food Science to champion for regulations, scientific and technological capacities, ensuring food is safe for consumers."
In the long-term, she hopes to influence impactful research policies.
"I plan to join the Women in Research for Development. Research projects have equipped me with the ability to conduct impactful research for innovative interventions and evidence-based policies."
"I am particularly looking forward to working with renowned researchers in the field of Food Science, like Professor Mary Abukutsa. I also plan to collaborate with Professor Yun Yun Gong... I have been honored to be part of her Microbiological and Chemical Food Safety class that has immensely equipped me with knowledge and expertise on some of the most challenging issues to having safe foods."
Advice to future students
University of Leeds, being a Russell Group school and ranked as one of the top globally for Food Science studies, will give you the optimum opportunity to excel.
"You are guaranteed of world class education, led by excellent academic staff including renowned researchers."
"The course, having ensured its relevance by having a multidisciplinary Board, contains modules that have been structured to reflect the industry needs. This obviously will translate to you becoming a 'highly sought after' graduate."
"Coupled with the excellent research facilities and laboratories, the excellent, dedicated, and experienced technical staff will give you the support amidst a busy research time, helping you understand how to use the facilities and conduct your trials effectively."
Join us
Discover more about studying a postgraduate degree at the School of Food Science and Nutrition.