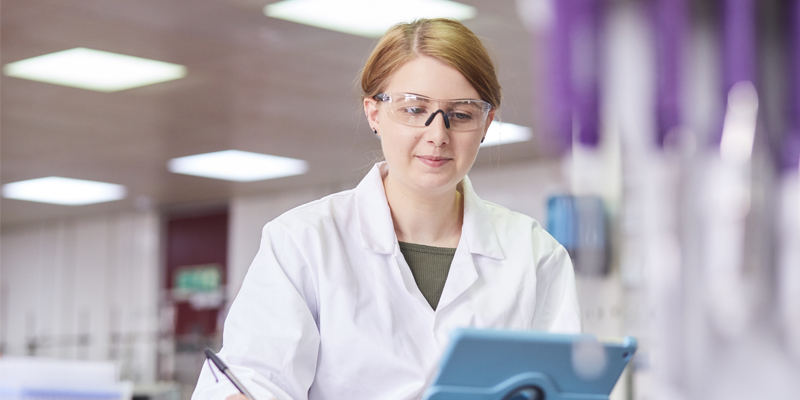 Our students are a diverse talent pool of smart, entrepreneurial and highly employable students.
We provide our students with an outstanding education alongside opportunities for work experience, cultural exploration and extra-curricular activities.
Our students' knowledge encompasses food science and nutritional health, product development and innovation, production processes and optimisation – their employable skills span many industry sectors.
From local SMEs to international organisations, we can help you connect with, engage and employ our talented students and graduates. We provide a free end-to-end, managed recruitment service and we can help you get involved with a broad range of services including:
12-month placements
Summer internships
On-campus activities such as careers fairs and guest lectures
We are always open to innovative ways of working with external partners to enhance the professional development of our students and look forward to working with you.
Year in Industry
Our Employability Team focuses on delivering a comprehensive work placement support service to both employers and students.
With many employers choosing to permanently recruit their former placement students from the University of Leeds, this can act as a graduate pipeline to find new talent.
Summer internships
We're keen to support organisations like yours to find the next generation of talent. We can offer you a managed internship vacancy service if you're advertising exclusively with us, and are looking for help with a particular project or if you're in need of some additional support during the summer months.
Through our managed internship vacancy service, you'll have the opportunity to advertise your exclusive summer internships at the University. By doing so, you'll benefit from:
Our support with identifying requirements for your summer project – putting you in contact with academic leaders where required.
A targeted advertising campaign.
Vacancy promotion.
CV collation.
Hosting of interviews on campus.
Management of the offer process.
What are the benefits to you?
Recruitment process managed by our Employability Team.
Projects delivered in a cost-effective manner.
Investment in a potential future recruit to your business.
Exhibit at our STEM careers fair
Careers fairs provide the ideal opportunity to meet our students face to face and to network with other industry professionals in your sector.
We hold a STEM Fair every October for Faculty of Environment students alongside the Faculties of Biological Sciences, Engineering and Physical Sciences.
The fair is attended by approximately 1,000 students across the disciplines and we vary costs of stands depending on whether you are an SME, charity or larger organisation.
Weekly employability email alerts
Every week our students receive our Faculty Employability Bulletin featuring the latest internships, graduate roles, events and news stories. We'd love for you to make an appearance in one or more of the weekly emails. If you're interested please email us:
details of the specific degree programme or student cohort you wish to target
a link to your online vacancy/event
key dates: for example closing date or event date
brief overview of role / event
The deadline for our weekly newsletter is Monday to feature on the Wednesday of the same week.
Deliver a careers talk to our students
Every year we invite employers and alumni to the Faculty to talk about their careers and opportunities within their current organisation, either as part of our year 2 careers modules where you will present to up to 200 students, or on an ad hoc basis.
Direct contact with employers really helps students to start to focus on future career choices and appreciate how the skills they are learning throughout their degree apply in the world of work. It also presents you as an employer with a great opportunity to promote your business and any work experience opportunities.
We can fit ad-hoc talks around your busy schedule and are happy to reimburse travel expenses where appropriate if you are presenting as part of a taught module.
Contact us
Becky Winwood, Employability and Placements Officer
e: R.Winwood@leeds.ac.uk
To discuss the year in industry scheme or the STEM fair, please contact: Tessa Grant, Professional Development Manager, t.j.grant@leeds.ac.uk