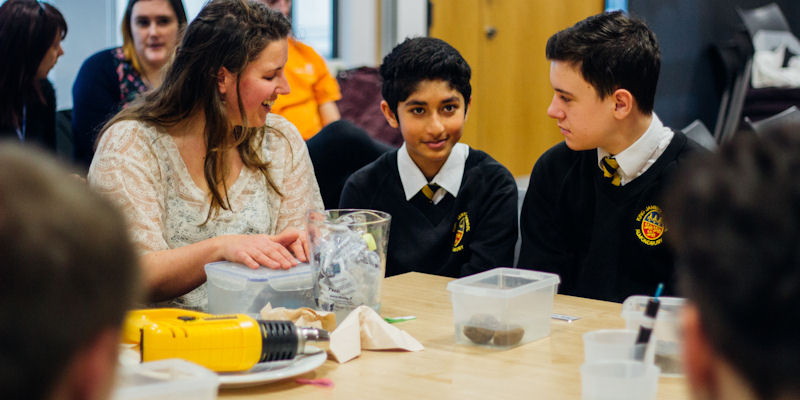 If you're a student, teacher, parent or carer with a passion for geography, ecology and the natural environment, or tackling global issues such as climate change, food and water security and nutritional science, then read on to find out more about the events we organise and deliver throughout the year.
Our outreach events are an ideal opportunity to try out exciting activities, have fun and meet other like-minded people, as well as the chance to find out more about subjects and careers that could be perfect for you. Our activities are supported by undergraduate and postgraduate students who are always happy to answer your questions about what it's like to study at Leeds.
In addition to subject specific activities, the Educational Engagement team works across the UK with schools and colleges to raise awareness of, and aspirations towards, higher education, offering a comprehensive programme of activities.
Coronavirus (COVID-19) update
Our on-campus and in-school events are paused until further notice due to the current coronavirus (COVID-19) situation. In place of these, the Education Outreach team is now offering a programme of online talks and workshops. To stay up to date with our programme you can join our mailing list by completing our quick form.
Online activities
Environment Futures
We're excited to launch our new online Environment Futures programme for Year 12 students, designed to help you develop your insight into the various courses and what it's like to study at a Russell Group University.
The programme will also help you develop your skills and subject knowledge, giving you the opportunity to take part in talks, workshops and other enrichment activities alongside your current studies. Choose from three separate strands; Climate, Sustainable and Earth.
Applications are now open and the deadline to apply is the 18th April. To find out more and appliy visit the STEM outreach website.
Live webinars
Join us for a new series of live webinars, developed for high school and college students.
Taking place every Tuesday, Wednesday and Thursday from 20 April, sessions will explore a range of topics including choosing a course and a university; the application process; subject insight presentations covering a wide range of disciplines; and study skills workshops to support students' current learning and the transition to university.
Each webinar runs 4.30–5.30pm (BST) with time allocated each day for students to put their questions to university staff and current undergraduates.
Students must register themselves by completing the relevant booking form under each webinar series.
Summer School
Preparing for COP26 – How can we save the climate
Our summer school is back for another year, catering for any Year 12 student with an interest in Business, Earth and Environment, Education, Geography, Law, Politics, Sociology and Social Policy.
Be part of a task force exploring how the Social Sciences can better prepare us for one of largest global challenges we will face in our lifetime. During the week you will attend a number of lectures and workshops exploring how to tackle climate change and the issues it will create.
You will have the opportunity to virtually explore our campus, speak to current students and meet academics in the School of Geography as well as the faculties of Social Sciences and Leeds University Business School.
The week culminates in a final challenge where you will get to imagine you are leading the Glasgow summit, what will you put forward as your suggestion to tackle the climate crisis? For more information visit the Social Sciences Outreach website.
Online courses
In addition to our outreach events we also have a range of free online courses, including Environmental Challenges, a five-part series examining how human society interacts with the natural world.
To follow food's fascinating journey from the farm to your body and discover nutrition around the world, join our free online course Food Science and Nutrition: From the Farm to You.
Join Ecology and Wildlife Conservation to learn how we can protect wildlife to conserve our natural world.
See a full list of online taster courses.
Online workshops and taster sessions
We have a variety of sessions delivered by academics within the Faculty of Environment. Find out more about our workshops.
For more information and to book, contact Jane Dickinson: J.r.dickinson@leeds.ac.uk
Some of our academics have also recorded a series of taster lectures, which are available for you to watch online.
More details
For more details of our activities visit the STEM outreach website and the Social Sciences outreach website and subscribe to our newsletter.
You can also register to receive an alert when booking opens for our next undergraduate virtual open days, which will take place in June 2021. Register your interest now.