Research project
Ponded Mini-basin Evolution, Oligo-Miocene of New Zealand
Start date: 1 January 2017
End date: 31 December 2018
Partners and collaborators: Royal Holloway University Fault Dynamics Research Group and UniLaSalle Bassins-Réservoirs-Ressources Group
Primary investigator: Professor Bill McCaffrey
Co-investigators: Dr Adam McArthur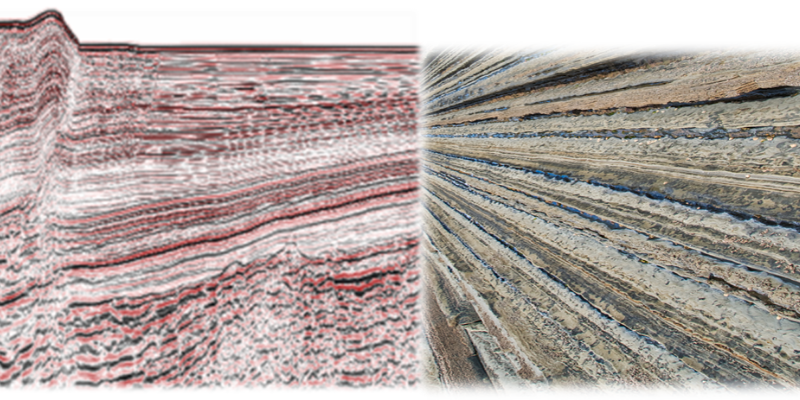 Industry funded consortium: Chevron, Equinor, OMV, Schlumberger
Project overview: Tectono-stratigraphic study integrating high-resolution outcrop, seafloor and subsurface datasets to understand the evolution, fill and deformation history of deep-water mini-basins in the Southern Hikurangi Subduction Margin of New Zealand. The Hikurangi Margin offers a unique insight into earth processes at subduction zones, with the inner portion of the subduction wedge being uplifted and exposed onshore, whilst the majority of the wedge is still actively developing offshore. This project is helping us to understand the complex sedimentary response to active subduction and is yielding fundamental insights into the interaction of sedimentary and tectonic processes on active margins.
Objectives:
Fieldwork is being conducted on the North Island of New Zealand to record the sedimentology of outcropping trench-slope mini-basins.

Bathymetry and subsurface data courtesy of government and industry partners are being studied to understand the ongoing deformation and sedimentation in a subduction zone.

Integration all of datasets, combined with laboratory studies are being used to understand the temporal and spatial variability of sedimentation and deformation in deep-water convergent margins.
Publications and outputs
McArthur & McCaffrey 2018. Sedimentary architecture of detached deep‐marine canyons: Examples from the East Coast Basin of New Zealand. Sedimentology (https://onlinelibrary.wiley.com/doi/full/10.1111/sed.12536)