Tackling climate change through place-based action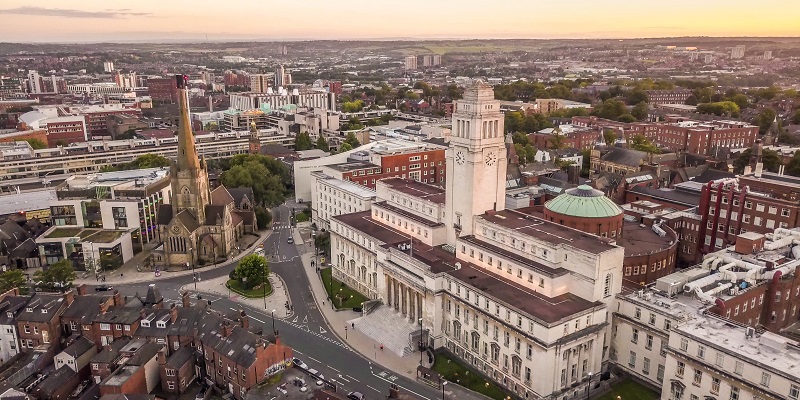 Cities are responsible for three-quarters of the world's carbon dioxide emissions (Coalition for Urban Transitions, 2019). But enacting local change is too often hampered by both a lack of resources, and by a disconnect between the sectors, people and sources of finance that would be best positioned to help. The Place-based Climate Action Network (PCAN), launched in February 2019, aims to remedy this.
The £3.5 million initiative, funded by the Economic and Social Research Council, wants to help the UK meet the requirements of the 2015 Paris Agreement on climate change and UK Climate Change Act. Its aims are to translate climate policy into action on a local level, and to establish a model in Leeds, Edinburgh and Belfast that can be followed elsewhere.
This begins with establishing local Climate Commissions, made up of representatives from across the public, private and third sectors, that act as a "critical friend to the city" as Andy Gouldson, Professor of Environmental Policy at the School of Earth and Environment, puts it.
Professor Gouldson is chair of the Leeds Climate Commission and a co-investigator on PCAN, which involves a cross-disciplinary roster of academics from the University of Leeds, University of Edinburgh, London School of Economics and Political Science and Queen's University of Belfast.
Collective responsibility for climate action
Leeds Climate Commission is an independent body made up of representatives from 31 businesses and organisations, including the NHS, Leeds City Council, the University of Leeds, Leeds Beckett University, Friends of the Earth, Diocese of Leeds, Yorkshire Water, Northern Gas Networks, property investor CEG and construction companies Arup and Buro Happold. As part of the PCAN project, sister Commissions have also been set up in Belfast and Edinburgh.
Rather than putting the onus solely on Leeds City Council, the Commission takes collective responsibility for climate action. It has prepared a carbon road map for Leeds, with projections of what it would take for the city to become carbon-neutral by 2050 (UK target), showing further actions that could help Leeds achieve its declared 2030 ambition. These include initiatives such as switching the heating network to decarbonised hydrogen, retrofitting domestic and commercial buildings, promoting walking and cycling, and reducing steel and concrete use.
The carbon roadmap was presented to Leeds City Council's Executive Board in May 2019 and members agreed the recommendations, as well as using the roadmap as the basis for a city-wide conversation on how to achieve Leeds' 2030 target.
It was noted that the work of Leeds Climate Commission to unlock low-carbon investment was "attracting national attention" and concluded that Leeds Climate Commission added value to the work in the city by catalysing activity and unlocking additional resources.
Stimulating the flow of green finance
To date, two-thirds of local authorities in the UK have declared a Climate Emergency (UK Climate Emergency Network, 2020). However, budget cuts mean finding the resources to put climate policy into action can be difficult, according to Professor Gouldson - Leeds City Council's funding for its sustainability agenda has been more than halved in recent years.
"Austerity has bitten so hard that relying on traditional government-led action is not going to work," he says. "There was a need for a different way of doing things: reaching out across the public, private and third sectors at the city scale, drawing them all together and saying collectively, we need to take action in this area. And we want to show it's possible to do something big and transformative without government support."
This includes feeding in academic research, analysis and data to help guide the action taken across a city, regularly assessing its progress, and to stimulate flows of capital into green approaches to transport, housing, buildings and industry. PCAN also operates a £40,000 Flexible Fund commissioning small grants for climate and energy research practitioners to explore innovative approaches.
Municipal investment and civic pride
One of the projects funded through the first round of the PCAN Fund was on Community Municipal Investments (CMIs) and their potential to drive decarbonisation projects for local authorities, through a crowdfunding platform.
"One of the most exciting things that's happening is local investment in climate action," says Professor Gouldson. "The citizens of Leeds have £2bn saved in ISAs, and with new financial regulations it might be possible to redirect some of that investment to go into a fund in Leeds that helps put solar panels on roofs. The city can then benefit from jobs, lower energy bills, lower emissions, and the people can benefit from getting a better return on their ISAs."
In contrast to relying solely on private companies to manage initiatives like wind farms and solar panels, this approach may help not only to overcome local opposition, but even foster a sense of shared ownership and civic pride in them.
This is backed up by a strong focus on public engagement throughout the process. Leeds Climate Commission, for example, set up a Citizens' Jury of 25 people tasked with examining the city's response to climate change and producing a set of 12 recommendations for the city.
Establishing a roadmap
Another important facet of PCAN is to create more carbon roadmaps like the one for Leeds that can be followed in other places. These have now been done for a number of cities including Edinburgh, Belfast and York, with more in the pipeline. The roadmaps are increasingly being seen by local authorities as an essential starting point for scoping and planning their journey to becoming carbon neutral.
In the meantime, the climate commission model commenced by Gouldson's team, working with Leeds City Council and others, has seen the PCAN network expand to six, with Lincoln, Croydon and Surrey the latest to form their own and Kirklees and York likely to start in 2020.
"The model the Climate Commission is using is all open-access and gradually it's spreading," says Professor Gouldson. "In the next five years we're hoping to see the Climate Commission model take off in a place-based way, adapted to fit with local priorities."
Contact us
If you would like to discuss this area of research in more detail, please contact Professor Andy Gouldson.