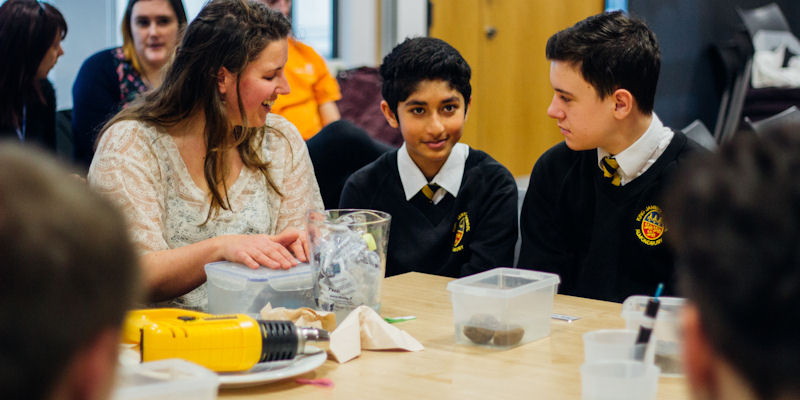 If you're a student, teacher, parent or carer with a passion for geography, ecology and the natural environment, or tackling global issues such as climate change, food and water security and nutritional science, then read on to find out more about the events we organise and deliver throughout the year.
Our outreach events are an ideal opportunity to try out exciting activities, have fun and meet other like-minded people, as well as the chance to find out more about subjects and careers that could be perfect for you. Our activities are supported by undergraduate and postgraduate students who are always happy to answer your questions about what it's like to study at Leeds.
On campus and in school activities
Come and join us at the University to take part in subject taster days, workshops, summer schools, and teacher CPD. We offer the following activities, among others:
Taster Days
Ideal for GCSE and A-Level students who are interested in studying environmental subjects in higher education. Taster days offer students the chance to experience university life and see what it's like to study at Leeds.
For more information contact Jane Dickinson (J.R.Dickinson@leeds.ac.uk).
STEM lectures - An opportunity to hear from researchers in STEM and expand your knowledge in a range of topics including antibiotic resistance, marine science, climate and sports science, and meet our undergraduates to find out more about studying STEM degrees at Leeds.
School of Earth and Environment
School of Food Science and Nutrition
Summer Schools
These residential courses provide an introduction to student life at the University of Leeds.
Teacher CPD
We offer opportunities for continuing professional development for primary and secondary teachers.
In addition to subject specific activities, the Educational Engagement team works across the UK with schools and colleges to raise awareness of, and aspirations towards, higher education, offering a comprehensive programme of activities.
Online courses
In addition to our outreach events we also have a range of free online courses, including Environmental Challenges, a five-part series examining how human society interacts with the natural world.
Food Science and Nutrition: From the Farm to You explores food's fascinating journey from the farm to your body. It is particularly useful for students who want to study food science or nutrition at university, or as a classroom resource for biology, chemistry, physics and engineering.
More details
For more details of our activities visit the STEM website and subscribe to our newsletter.