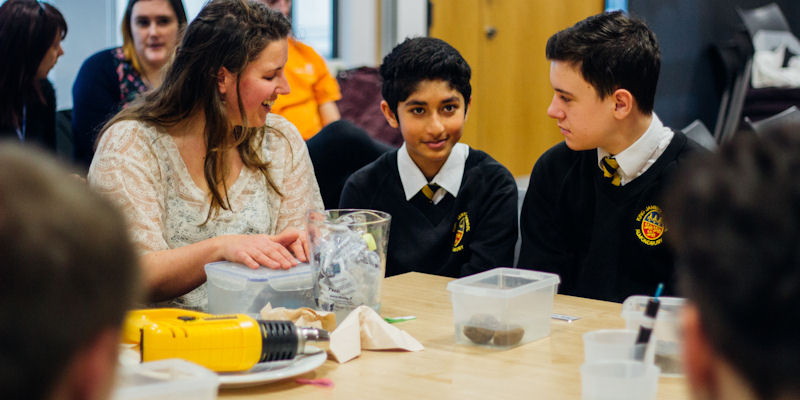 If you're a student, teacher, parent or carer with a passion for geography, ecology and the natural environment, or tackling global issues such as climate change, food and water security and nutritional science, then read on to find out more about the events we organise and deliver throughout the year.
Our outreach events are an ideal opportunity to try out exciting activities, have fun and meet other like-minded people, as well as the chance to find out more about subjects and careers that could be perfect for you. Our activities are supported by undergraduate and postgraduate students who are always happy to answer your questions about what it's like to study at Leeds.
Coronavirus (COVID-19) update
Our on-campus and in-school events are paused until further notice due to the current coronavirus (COVID-19) situation. In place of these, the Education Outreach team is now offering a programme of online talks and workshops. To stay up to date with our programme you can join our mailing list by completing our quick form.
Schools outreach activities
Join us at subject taster days, summer schools and teacher CPD. We offer the following activities, among others:
In addition to subject specific activities, the Educational Engagement team work across the UK with schools and colleges to raise awareness of, and aspirations towards, higher education, offering a comprehensive programme of activities.
Online courses
In addition to our outreach events we also have a range of free online courses. For example, the Environmental Challenges five-part series examines how human society interacts with the natural world.
You may also be interested in Food Science and Nutrition: From the Farm to You to follow food's fascinating journey from the farm to your body; or join Ecology and Wildlife Conservation to learn how we can protect wildlife to conserve our natural world.
More details
For more details of our activities visit the STEM outreach website and the Social Sciences outreach website and subscribe to our newsletter.
You can also register your interest to receive an alert when booking opens for our next undergraduate virtual open days, which will take place in June 2021.