Research project
Compositional Studies on Detrital Gold
Start date: 1 June 2018
End date: 31 March 2019
Funder: Yukon GS
Value: £3887
Partners and collaborators: Yukon GS
Primary investigator: Dr Rob Chapman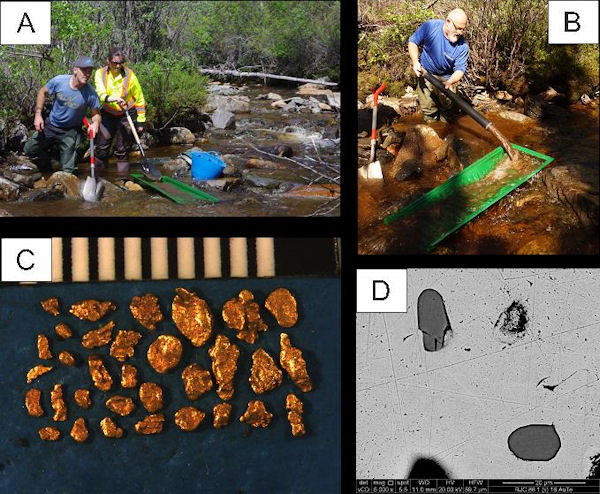 The south central Yukon, Canada is a world class placer gold region, and this industry has underpinned the local economy for over a hundred years. Recently, sustained exploration for 'in situ' mineralization has identified several targets which are currently the subject of evaluation.
The most economically important of these is the 'Coffee Property', owned by GoldCorp, located 130km south of Dawson City, and adjacent to the Yukon River. The current (inferred) reserves are 1.15 million ounces Au and mining is due to commence in 2021. Mineralization at Coffee comprises 'invisible' (i.e. submicroscopic) gold held in the crystal lattice of arsenopyrite. Gold of this size is too small to form placer deposits, and until recently there has been no recorded historical exploration for placer resources in the surrounding drainage.
The discovery of coarse detrital gold in some areas in 2017 has potential ramifications for the understanding and exploitation of the Coffee orebody, and there are four possible explanations for the apparent discrepancy between hypogene mineralization and the placer occurrence:
i. The majority of gold at Coffee is present as small particles in arsenopyrite, but erosion from a large volume of ore provides sufficient particles of atypical size to be identified in a fluvial sediments.
ii. The mineralization exhibited a vertical zonation in size of gold such that the larger detrital particles represent gold liberated at a higher erosional layer.
iii. The placer gold particles are derived from a different but genetically related source in the drainage catchment.
iv. The detrital gold particles are derived from a genetically unrelated source.
The methodology of detrital gold grain characterization has been pioneered at Leeds, and the project seeks to establish the relationship (if any) between the ore mineralization at Coffee and the newly discovered placer occurrence. The project is funded by the Yukon Geological Survey, (YGS) with logistical support provided by GoldCorp.
Fieldwork was undertaken in June 2018 and Rob Chapman (UoL) and Jeff Bond (YGS) were hosted in the Coffee Creek exploration camp. The 7 day sampling exercise was facilitated by helicopter access to sampling sites in the Goldcorp licence area. The gold grains collected are the subject of ongoing analysis in Leeds.
The results of the study are expected in Q4 2018, and may underpin a poster presentation at the Vancouver Exploration Roundup, January 2019.